Russell Museum enjoys telling some of the fascinating stories from the town's history. Our local paper Russell Lights carries regular feature articles called Heritage Corner which feature these early gems about the town and our people.
A selection of them have been reproduced here. When you visit Russell, look out as you may well recognise some of the places and names from our past.
Heritage Corner articles:

Fire at the Duke of Marlborough
Whangamumu Windy Harbour
Russell Town Council
Winter Sports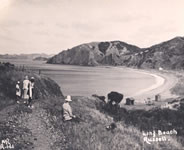 B&W photo postcard by Montagu. Russell no. R141. C. 1920s. From the earliest time the 'S' word has been part of Russell.  This old photo postcard shows a metalled track down to Long Beach.  Down below a bathing shed and long drop toilet stand on the foreshore.  In the distance is Wiggin's small cottage (now replaced by a grandson's contemporary bach.)  There is no road along the beach. Long Beach has a long history as a place to relax and enjoy sea, sun and sand. Possibly the first horse race in New Zealand was held there in 1839.  Louisa...
read more