Russell Museum enjoys telling some of the fascinating stories from the town's history. Our local paper Russell Lights carries regular feature articles called Heritage Corner which feature these early gems about the town and our people.
A selection of them have been reproduced here. When you visit Russell, look out as you may well recognise some of the places and names from our past.
Heritage Corner articles:

Fire at the Duke of Marlborough
Whangamumu Windy Harbour
Russell Town Council
Winter Sports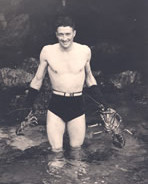 Original photo © Russell Museum Percy Kydd with delicious bounty Here is Percy Kydd with the result of a summer dive in the Bay, a photo taken by Warkworth photographer Tudor Collins in the1950s. Percy was one of a family of 12 children whose parents were David Henry Kydd and his wife Bertha nee Hau. David's mother Matilda had been the widow of George Cook, whaler, so David had Cook half brothers and cousins  who established the shore based whaling station at Whangamumu. In 1911 David and Bertha moved to Russell so their children were able to...
read more