Russell's Butchers Bike
The old butcher's bike which was parked outside the Joint in Cass Street is still around. Bill Shatwell of the Joint and the then landlord Tony Gilbert donated it to the Russell Museum. Laurie Coates, of Tapeka, has cleaned and restored the bike (he used to have a cycle shop in Auckland, and was a keen cyclist). All it lacks now is a basket and the museum hopes to find an original or have a replacement made. Laurie says the bike is an Hercules dating from the 1930s.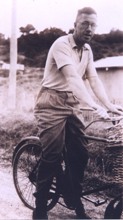 This photo is of David Woodcock, who had a grocer store in York St, riding the bike, doing deliveries, in 1944. He sold the bike to Duncan Hawkins, the butcher, for $50 and the bike stayed with the butchery under subsequent owners.
The museum hopes the bike will be able to be out and about for community events.
Research (Rangahau)
Russell Museum is an ideal place to undertake research on all aspects of Russell / Kororareka and the Eastern Bay of Islands history. Our collection consists of:
artifacts
reference and rare books
early photographs of Russell and the surrounding area
family papers
newspaper clippings
magazines
Waitangi Treaty Claims documentation
Old Maori Land Claims
Our friendly and experienced staff are available to assist you. We use Vernon: Collection Management Software for Museums. Importantly, our staff have local knowledge and networks that may be helpful to your research.
If you can't visit Russell Museum to research, don't worry, we can research for you. Our research fees are nominal, as are our copy, scanning and photo printing services. Please email us or call ahead to 09 4037701 for an appointment or alternatively ask us to carry out research on your behalf. We look forward to helping you.
Additional donations of information for our archives are always welcome so that we may share this knowledge with others.