The Children of Rangi and Papa - the Maori story of Creation by Pauline Kahurangi Yearbury has recently been reprinted by Russell Museum.

It features the colourful artwork and supporting poems by a local Maori artist.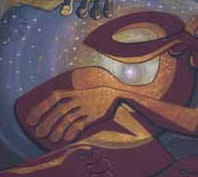 This image, titled Rangi and Papa in the light, is from the book.

Museum Shop
The Museum shop features a wide range of unusual gifts. Items include bone carvings, scrimshaw, greenstone (pounamu) and paua jewellery as well as cards and paintings. It is a great place to get gifts, birthday presents or a souvenir of your visit to the Bay of Islands.
The Museum has a policy of reprinting historic books about our area.
Heritage Trails
We produce three brochures that tell of the local history and are available at the Museum shop.
Russell / Kororareka Heritage Trail is a walking or driving tour of the town covering central Russell, Flagstaff to Tapeka, Long Beach, and Russell to Okiato.
Russell Bay of Islands Maritime Heritage Trail lists sites of interest around the inner Bay of Islands.
Russell Christ Church CemeteryTrail tells the fasinating stories behind some of the old graves.
Check out our books collection for a list of titles.