Whakakotahitanga
A flagstaff still stands on Maiki. A new one was erected in 1857 by the son of Kawiti.
Over the years it suffered damage from vandalism, fire, lightning and dry rot but has now been fully restored. The United Tribes flag of 1834 flies from Whakakotahitanga 12 times a year.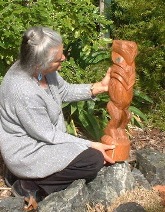 Russell Museum has a piece of the flagstaff which was removed during repairs. It has been carved into a tekoteko, a carving for the gable of a house.
Battle of Kororareka
The most dramatic day in the history of Russell was 11 March 1845. In the early morning hours the forces of Heke and Kawiti in a three pronged manoeuvre took control of the town. The flagstaff on Maiki Hill, at the northern end of the town, flew the Union Jack; this symbol of British authority was felled for a fourth time and the town evacuated. This drastic action arose partly from Maori discontent at the moving of New Zealand's Capital to Auckland and the consequent economic decline of the Bay of Islands.
Russell Museum has portraits of the Maori chiefs Heke, Kawiti and Nene, cannon balls, a musket and soldiers' medals.