Russell School
We have a good selection of photos dating from early1900s of pupils at Russell School.
The photo below shows Russell School hockey team in 1911.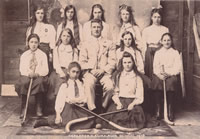 They were successful in beating a much larger neighbouring school at Kawakawa.

Historic Photo Archives
The Russell Museum Photo Archives contains over two thousand photos. Most are owned by Russell Museum but others are copy prints from other institutions used for reference purposes only. The museum has a selection of these available for viewing on computer in the Marie King Gallery and they are a fascinating resource for visitors as well as a great resource for research and projects.
Photographs are classified as follows:
Bay of Islands Scenes
Buildings to 1920
Buildings after 1920
Bush Northland
Events
Flagstaff Hill
Kerikeri, Kaikohe
Long Beach 1920 onwards
Matauwhi Bay 1920 onwards
Paihia and Waitangi
People before 1900

People 1900-1920
People 1920 onwards
Royal Visits
Russell before 1900
Russell 1900-1920
Russell 1920 onwards
Russell Churches
Russell Museum
Russell School
Ships and boats
Sports fishing
Tapeka, Mt Tikitikioure, Orongo Bay, Kawakawa, Opua, Waikare
Te Wahapu and Okiato
Whangamumu and Russell Road
Copies can be purchased from the Russell Museum either as copy prints or jpeg files. A selection of our photos are on the ehive website. Please feel free to contact us for further details.