Endeavour
Russell Museum has a one-fifth scale model of the Endeavour built in 1969 by Ralph Sewell an Auckland boat and organ builder by trade.
Ralph Sewell wanted to commemorate Cook's first visit to New Zealand 200 years earlier. The construction of the model took 12 weeks and was based on plans from the National Maritime Museum Greenwich, London.
Sponsored by South British Insurance, the model travelled throughout New Zealand and Australia by trailer, being sailed in harbours wherever possible.
It was presented to Russell Museum in 1970 together with a purpose built gallery.
Explorers
Captain James Cook gave the Bay of Islands its English name when he visited in 1769. He anchored off Motuarohia just around the Kororareka headland and declared the Bay of Islands "a noble anchorage".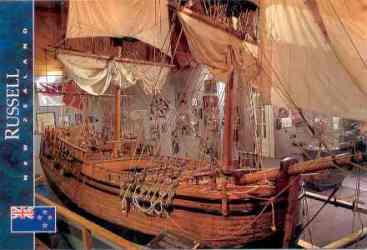 Russell Museum's ship wing highlights the strong maritime theme that runs through the town. The large model of Cook's Endeavour is central but tribute is also paid to the French presence. Marion du Fresne anchored nearby in 1772, and Dumont d'Urville made three visits between 1824 and 1840. Russell Museum has a model of Dumont d'Urville's ship originally called La Coquille and later Astrolabe.
The ship wing also traces Russell's development as a port of call for coastal shipping before adequate roads linked Northland to the rest of New Zealand. The coastal steamer Clansman is represented by an oil painting of it by one of its masters.
Kauri gum, coal and manganese were exported from the Port of Russell and even today Russell wharf is an important gateway for visitors to the town.