Russell Museum now has a great new exhibit on display for visitors to experience, an interactive digital map called Īpipiri. Īpipiri is the Māori name for the Eastern Bay of Islands, and the mapping table now joins Captain Cook's Endeavour as a museum must see attraction. Great fun for the kids, its two animated re-enactments brilliantly bring to life how our region and its ecology were first formed and developed.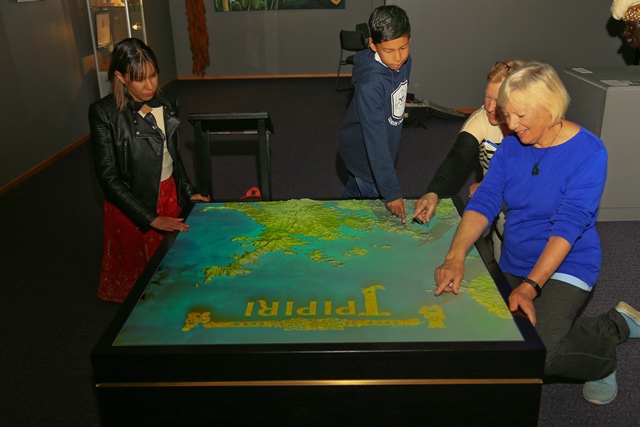 It also tells how violent and bloody reprisals were avoided in 1769 during Captain Cook's first dramatic meeting with local Māori after the intervention of Tupaia, the famous Tahitian priest and navigator who was on board. The table adds a whole new storytelling dimension to the museum; the famous characters from our past come to life, telling their own stories and in so doing throws new light on the rich museum collection and the people and places it represents and illustrates.
One story line begins with Māori beliefs about creation and the formation of the solid world, the landmass of Aotearoa and Īpipriri. The appearance of the unique flora and fauna that developed later, the Polynesian voyagers who finally made it and settled here, the Europeans that followed and how our environment was forever changed by the animals and plants they brought with them. The second tells a story, only recently related, about how the British expedition of 1769 managed to remain in the Bay for several days unharmed after having shot and wounded a local rangatira. It explains that serious violence against the British sailors was only avoided by the peace-making intervention of Tupaia and the bonds formed through gift exchanges he facilitated. Tupaia had joined the expedition in Tahiti and his translation skills and understanding of local customs and protocols may have salvaged many another fraught situations from escalating into violence and death.
The table was made possible through Te Au Mārie Trust as part of Tuia 250 with funding from The NZ Lottery Grants Board, the Provincial Growth Fund and the Ministry of Culture & Heritage.